06 Jun

Maximizing Your Small Business's Tax Efficiency: Choosing the Best Accounting Service in New York

Determining the optimal tax accounting service for your small business in New York is a critical decision that can greatly impact your financial success. The primary objectives of enlisting the assistance of an accountant, bookkeeper, or tax planning professional are to minimize your tax liabilities, ensure legal compliance, and efficiently manage your business's books and records to foster growth. In this article, we will delve into the advantages and disadvantages of each type of accounting service, empowering you to make an informed choice.
OPTION 1: ENGAGE A BOOKKEEPER
A bookkeeper plays a pivotal role in meticulously tracking your income and expenses, collaborating with an accountant to complete your annual tax filings.
Key points to consider:
Bookkeeping services in NYC will typically cost a monthly fee ranging from $200 to $300, subject to variations for larger enterprises.
They collaborate with accountants to prepare your taxes annually.
However, it is not uncommon for miscommunication or a lack of synergy to arise between the bookkeeper and the accountant.
OPTION 2: UTILIZE A TAX PLANNER
Engaging a tax planner can be highly advantageous as they specialize in providing expert advice on reducing your tax burden. Nevertheless, they may not always assist in implementing the recommended strategies.
Key points to consider:
Tax planners develop customized tax plans that elucidate ways to minimize your tax expenses.
The cost of their services can range from $5,000 to $20,000.
While they outline effective tax-saving strategies, they may not actively assist in executing them.
OPTION 3: ADOPT A COMPREHENSIVE TAX PROFESSIONAL
A comprehensive tax professional encompasses a wide range of services, encompassing accounting, bookkeeping, and tax planning services in NYC.
Key points to consider:
By offering an all-encompassing solution, a comprehensive tax professional eliminates any gaps or inconsistencies between different services.
They aid in tax planning to optimize your savings.
Bookkeeping services are provided to save you valuable time.
They ensure legal compliance and offer peace of mind by managing all accounting responsibilities.
Monthly fees for small businesses range from $500, whereas larger businesses can expect to pay around $1,500.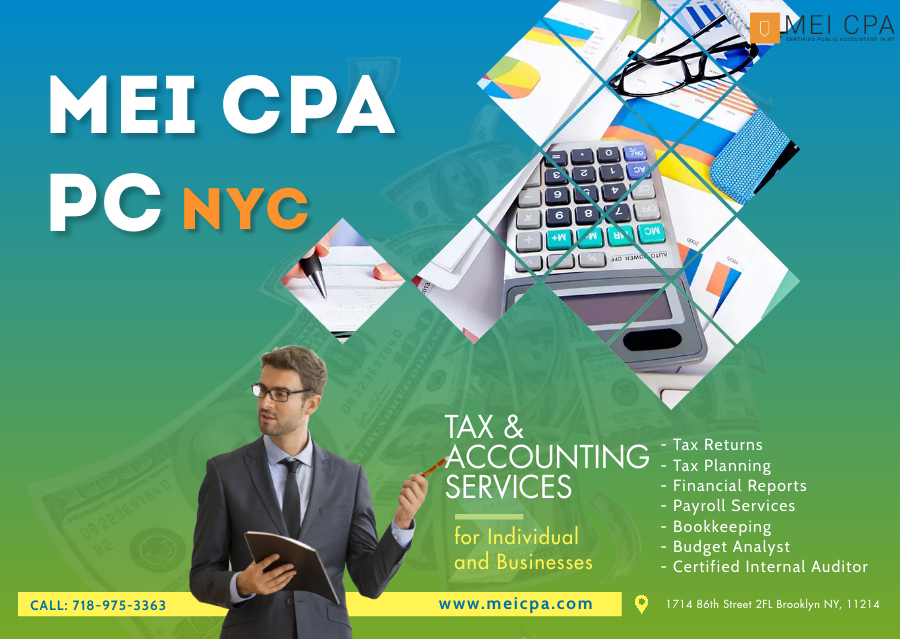 RECOMMENDED ACCOUNTING SERVICE FOR BUSINESSES IN NEW YORK
For businesses with yearly revenues ranging from $250,000 to $1 million or more, we strongly advocate partnering with a comprehensive tax professional.
Collaborating with a comprehensive tax professional empowers you to unlock substantial tax savings, potentially amounting to thousands of dollars annually. Moreover, you can rest assured knowing that your accounting and bookkeeping needs are diligently addressed, sparing you the burden of managing these tasks independently.
To explore further how our services can revolutionize your financial landscape and generate substantial tax savings with a simple adjustment to your finances, we invite you to delve deeper into our offerings.
Here at MEICPA in NYC, we pride ourselves on providing unparalleled comprehensive tax and accounting services, coupled with top-notch bookkeeping services. We cater to businesses of all sizes, ranging from large corporations to medium-sized enterprises, as well as small businesses, freelancers, self-employed individuals, startups, and NGOs across the vibrant landscape of New York City.
Our team of highly skilled professionals possesses extensive expertise in the complexities of the New York tax system and stays up-to-date with the latest regulatory changes to ensure your business remains in full compliance. We understand the unique challenges faced by different types of businesses and individuals, and we tailor our services to meet your specific needs, regardless of the industry or sector you operate in.
Whether you require assistance with tax planning, preparation, or filing, our comprehensive tax services are designed to help you minimize your tax liabilities while maximizing your savings. Our dedicated tax planners meticulously analyze your financial situation and devise customized tax strategies that align with your business goals. By implementing these strategies, we can help you optimize your tax efficiency, allowing you to retain more of your hard-earned revenue.
In addition to our tax expertise, we offer exceptional accounting services that go beyond traditional financial record-keeping. Our seasoned accountants are adept at managing all aspects of your financial statements, ensuring accuracy and transparency. From generating insightful financial reports to conducting thorough audits, our accounting services provide you with the vital information you need to make informed business decisions and drive sustainable growth.
Furthermore, our bookkeeping services are designed to alleviate the burden of day-to-day financial tasks, freeing up your valuable time to focus on core business activities. Our meticulous bookkeepers will meticulously track your income and expenses, maintain accurate records, and ensure your financial transactions are properly recorded and organized. With our assistance, you can maintain a clear and updated financial picture, facilitating better financial management and facilitating more effective strategic planning.
At MEICPA, we prioritize building strong relationships with our clients. We take the time to understand your business objectives, challenges, and aspirations, allowing us to provide tailored solutions that deliver tangible results. Our commitment to excellence, attention to detail, and dedication to client satisfaction set us apart as a trusted partner in your financial success.
Whether you are a well-established corporation, a budding startup, a passionate freelancer, or a non-profit organization making a difference, we have the expertise and resources to support your financial needs. Contact us today to discover how our comprehensive tax, accounting, and bookkeeping services can empower your business and help you achieve your goals in the dynamic landscape of New York City.