12 Jun

Tax and Accounting Firm in Brooklyn, NYC: Mei CPA, Your Trusted Financial Partner

Welcome to our blog, where we provide valuable insights into the world of tax and accounting services. As an experienced tax and accounting firm based in the vibrant borough of Brooklyn, NYC, we take pride in being a trusted financial partner for businesses and individuals alike. Our team of dedicated professionals strives to provide top-notch services that not only optimize your financial operations but also ensure compliance with the ever-changing tax laws. Join us as we explore the significance of choosing the right tax and accounting firm and delve into the benefits of working with professionals who understand the unique challenges and opportunities of the Brooklyn business landscape.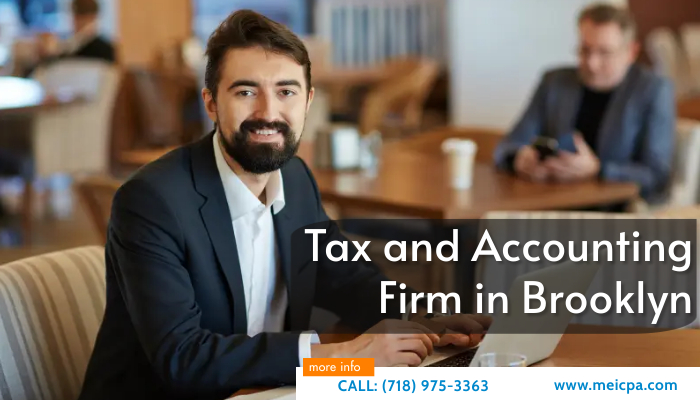 Why Choose a Tax and Accounting Firm?
Navigating the complexities of tax laws and financial regulations can be overwhelming for individuals and businesses alike. Hiring a professional tax and accounting firm in NYC can provide you with the necessary expertise and support to ensure accurate financial reporting, optimize tax savings, and maintain compliance with legal requirements. Let's take a closer look at why choosing a reliable firm like ours is essential:
Expertise: Our team comprises seasoned professionals with extensive knowledge and experience in tax and accounting practices. We stay up to date with the latest regulations, ensuring that our clients benefit from accurate and reliable advice.
Time and Cost Savings: By outsourcing your tax and accounting needs to our firm, you can focus on what you do best: running your business. Our efficient processes and expertise can save you time, reduce errors, and ultimately help you save money.
Compliance and Risk Mitigation: Tax laws are complex and subject to frequent changes. Our professionals have an in-depth understanding of these regulations, ensuring that your tax returns are filed accurately and on time. We also help identify potential risks and opportunities, allowing you to make informed financial decisions.
Strategic Planning: Beyond compliance, we offer strategic planning services to help you achieve your financial goals. By analyzing your financial data, we can provide insights and recommendations that drive growth, maximize profits, and minimize tax liabilities.
The Brooklyn Advantage
Brooklyn, NYC, is a dynamic borough known for its vibrant business community and entrepreneurial spirit. As your local tax and accounting service provider, we possess a deep understanding of the unique challenges and opportunities presented by the Brooklyn landscape. Here's why our expertise in serving the Brooklyn community sets us apart:
Local Market Insight: We have an intimate knowledge of the Brooklyn market, allowing us to tailor our services to meet the specific needs of local small medium, and big businesses. We understand the nuances of different industries and can provide targeted solutions for your financial success.
Small Business Support: Brooklyn thrives on small businesses that contribute to its unique character. We are passionate about supporting local entrepreneurs and providing personalized services designed to help small businesses grow, prosper, and achieve their goals.
Diverse Clientele: Brooklyn is a melting pot of cultures, attracting a diverse range of individuals, Freelancers, and businesses. Our firm embraces this diversity and has experience working with clients from various backgrounds, ensuring that we can cater to the unique requirements of each client.
Ultimately, Choosing the right tax and accounting firm is paramount to your financial success. As a trusted partner in Brooklyn, NYC, we offer the expertise, experience, and personalized services that individuals and businesses need to navigate the complexities of tax laws and achieve their financial goals. By partnering with our firm, you can unlock the benefits of streamlined financial operations, compliance assurance, and strategic planning, allowing you to focus on what matters most—growing your business and realizing your financial aspirations.
Contact us at (718) 975-3363 today to discuss how our tax and accounting services for your business can empower you on your financial journey.